Feb. 7 "Nonprofits: The DNA of Our Democracy?" – Susan Haig, DMA, conductor, founder and creative director of New Jersey Arts News will discuss how and why the nonprofit sphere is evolving in society today as our problem-solving arena.

Feb. 14 "Origins of the Races" – Dr. Brian Regal, is Professor of History at Kean University. Prof. Regal's work is on human evolution and how it is used for extra-scientific ends in religion, politics, and art.

Feb. 21 "The Morris Music Men" - A Morristown, NJ based barbershop-style singing organization that first began entertaining local area public audiences in the 1950s. Their performance will feature a selection of favorite barbershop melodies combined with audience sing along tunes designed to both inspire and entertain.

Feb. 28 "Liberty Hall Families' Lasting Influence in NJ"- William Schroh Jr., Director of Museum Operations, Liberty Hall. The Livingston and Kean families, converging at Liberty Hall, Elizabeth, have contributed to NJ from colonial times to the present.

                March Birthdays – John Baxter

Mar. 7 "Genealogy 101- Connections" – Pat Bennett,Coordinator, New Jersey's Annual Adoption Conference. Pat Bennett's grandparents left Europe at the turn of the 20th century to pursue the American dream.  Through hard work, a few memories of names and places, and a lot of luck, she uncovered the stories of those who emigrated and those who were left behind.

Mar. 14 "Deserted Village of Feltsville - It's Not So Deserted Anymore" - Daniel Bernier, Director of Environmental Services for the Union Co. Park System and resident caretaker, will talk about the Visitors Center and public programs that now attract 100,000 visitors annually.

Mar. 21 "Assisi Performing Arts" - Gregory Scime, Artistic Director, founded the festival in Assisi 16 years ago. Over a two week period, each summer, the festival brings together students and accomplished musicians plus guests to study and perform at various historic venues around the city.

Mar. 28 "The Role of Polish Women in the Armed Forces in WWII" - Eva Jedruch, Author, will discuss the situation around the 1939 invasion by the USSR into southeastern Poland. By 1941, after Hitler invaded the USSR, many young women were drafted into the Polish Auxiliary Women's Forces (PSX), one being Eva Jedruch's mother.



April Birthdays – John Baxter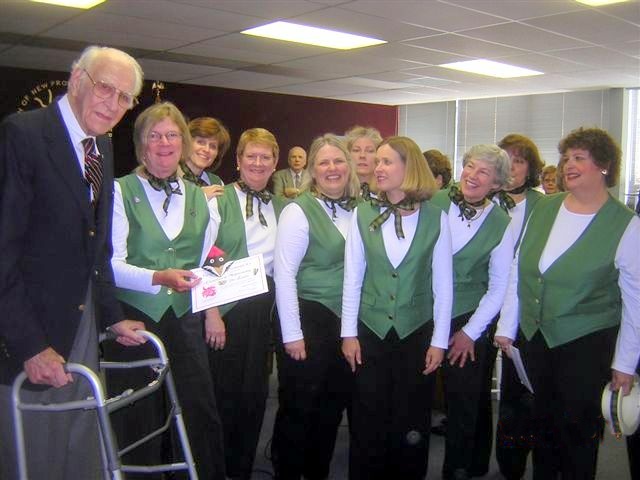 Technology User Group (TUG)  Discussions for all users at all levels in the Council Chamber, 11:45 a.m. (First and fourth Tuesdays).

Feb. 7  Current issues for group discussion.

Feb. 28 Demo & discussion on changing your email address.

Timely Topics  Discussion in the Council Chamber with participation encouraged from all in attendance. Usually at 11:45 a.m. on the second Tuesday.

Feb. 14 Steve Varley will lead a discussion of "What's Wrong With the U S Economy and What Can We Do About It."

Trips Scheduled (Old Guard Members and Their Guests Only)

Date TBD - Luncheon at Nero's Grille in Livingson. For details open the Events/Trips page or click below.

Walkers If weather is "iffy", call Doug Garno, (908) 464-2139, (908) 917-3837 (cell); or Ellwood Jacoby, (908) 654-7116; (908) 692-1481 (cell). Interested members with or without spouse/friend meet at 10:30 a.m. Walks are about one hour. Lunch is optional.

Walks in February to be announced.

Come for the Programs. Stay for the Friends.