Feb. 6 "History and Profile of Union County" -- Union County Freeholders Bruce Bergen, Chairman, and Bette Jane Kowalski will discuss the history, geography and demographics of Union County and efforts to preserve historic sites.

Feb. 13 "Evolution of the American Flag" -- J. Richard Pierce, Historian, will tell us about the origin and history of "Old Glory." He is the author of Stars and Stripes -- Fabric of the American Spirit, and has a notable collection of American flags.

Feb. 20 "The F.M. Kirby Foundation" -- William H. Byrnes, Vice President, Grants, will describe the history, goals, and granting philosophy of the foundation, based in Morristown.

Feb. 27 "When Traveling, Shoud You Use AirBnB?" -- Norm Shearer rents and uses AirBnB on his travels.  He will discuss the benefits and issues of this growing form of cost-effective travel accomodation.

                  March Birthdays - John Baxter



Mar. 6 "New Jersey Political Scene" -- Tom Moran, Editor, The Star Leger, will discuss possible trends in New Jersey politics in the era of Governor Phil Murphy.

Mar. 13 "Canterbury Cathedral -- The Heart of the Protestant Christian World" -- Rev. Matthew Corkern, Rector, Calvary Episcopal Church, Summit, will talk about the history of the cathedral and its significance for the Church of England and the world-wide Anglican Union.

Mar. 20 "Ireland and New Jersey, a Home from Home for 400 Years" -- Dermot Quinn, Professor and Director of Graduate Studies, Department of History, Seton Hall University, will talk about the history of the Irish in New Jersey.

Mar. 27 "Vocal Concert" -- The Larks, Junior League of Summit, Joanna Russell, Director, will entertain us with a reportoire of songs, including a medley of Broadway show tunes.

                  April Birthdays - John Baxter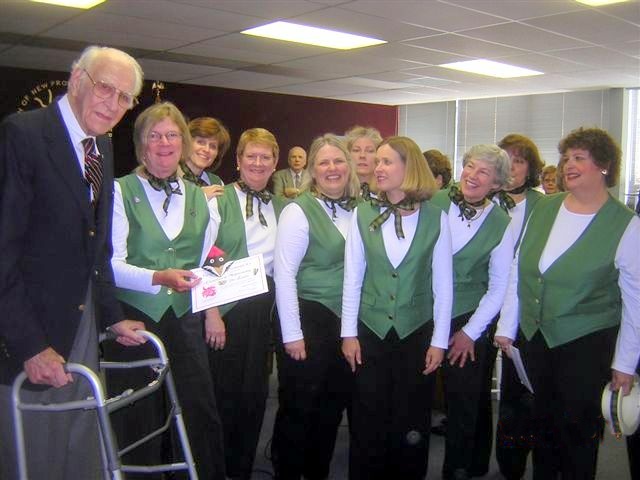 Technology User Group (TUG)  Discussions for all users at all levels in the front of our meeting room, 11:45 a.m. (First and fourth Tuesdays of the month).

February 6 - Monthly issues session and plan for 2018 Topics.

February 27 - How to understand and organize the W10 Start Screen. Demo by Paul Tukey using Reyer Swaak's laptop.

Timely Topics  Discussion in the front of our meeting room with participation encouraged from all in attendance. Usually at 11:45 a.m. on the second Tuesday.

February 13 - Steve Varley will lead a discussion on the impact of the Tax Law for good or bad depending on where we stand. The impact will be direct and indirect.  Steve will lead our discussion on the major elements of the law and how they are likely to impact us economically and politically.  Subject matter may change should overarching issues arise.

Trips Scheduled (Old Guard Members and Their Guests Only)

Walkers The Walkers Group has been relaunched in a new format (which is still evolving).  For now we are walking twice a week, Mondays and Thursdays, at 8:00 AM at Briant Park in Summit, with "mall walking" at the Short Hills Mall as a backup for bad weather.  If Interested, please drop a note to paul.tukey@gmail.com to weigh in and say what formulation might work well for you.

Come for the Programs. Stay for the Friends.