April 2 "The Politics of Holy Week" -- Rev Frank Wade traces the conflicting histories &  motivations of the various actors in 1st century Jerusalem – Christians, Romans, Jews, the adoring crowd, the non-adoring crowd. Many think this history shows the falseness of anti-Jewish claims made by Christian anti-Semites in the past. Rev. Wade was Rector of St. Alban's Church in Washington DC and Interim Dean of the Washington National Cathedral, and now teaches at Virginia Theological Seminary.

April 9 "Caring for Caregivers" -- Tracy Carroll observes that as more children and spouses find themselves caring for longer-lived parents and life partners, many neglect caring for themselves.  Her talk offers caregivers advice on identifying and addressing their own needs. Tracy leads the Caregivers Support Group at Morrow Memorial Church in Maplewood NJ.  A Harvard graduate, she chose to be a stay-at-home mom and a community volunteer focusing on race relations, school curriculum, and quality education for all children.

April 16 "Food and Water Security" -- James Brodie, a local investor in Millburn NJ, and a financial advisor with decades of experience on Wall Street, will employ an investment analysis point of view to assess food and water security in the 21st century and its associated geopolitics.

April 23 "Why Good People are Divided" -- Old Guard member Peter Bolton explains Jonathan Haidt's prescient analysis of current social divisions through use of his 2012 work The Righteous Mind:  Why Good People are Divided by Politics and Religion, an especially timely work given the 2016 election and its aftermath.

April 30 "Time for a Sustainability Reporting Hub in NJ" -- Dr. Susan Haig outlines a new collaborative for making NJ an exporter of news, involving CivicStory in partnership with the Center for Cooperative Media at Montclair State, and NJ Higher Education Partnership for Sustainability.  Susan conducts the South Orange Symphony Orchestra, and is Founder and Creative Director of CivicStory.org, a nonprofit news site that produces videos highlighting sustainability and creative change in New Jersey, featuring citizens who are transforming their communities.

         May Birthdays - Kai Heyer

May 7 "New Manhattan Project for Future Threats" - Dan Dubno, will speak on the topic.

May 14 Ladies Day -- No regular meeting.  Ladies Day luncheon will be held at the Basking Ridge Country Club.  See Special Events page for details.

May 21 "Summiting Mt. Everest -- A First Hand Account" - Dan Stringham will tell his story..

May 28 "Family Scouting" -- Bridget and Bob Brady will give a first-hand account of the first few months after girls were allowed in the Scouts BSA -- the program started February 1, 2019.

         June Birthdays - Foster Osborn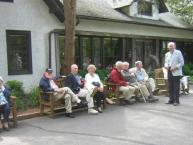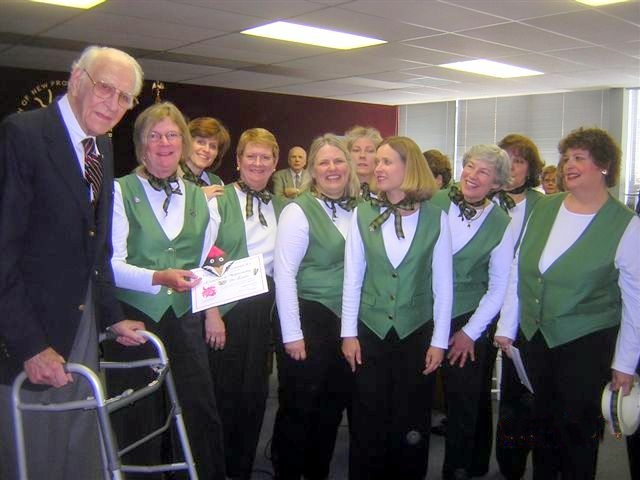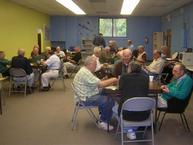 Technology User Group (TUG)  Discussions for all users at all levels in the front of our meeting room, 11:45 a.m. (First and fourth Tuesdays of the month)...

April 2 -- Visit Nokia/Bell Labs technology museum

April 23 -- Monthly Issues Meeting.  Bring you technology issues for discussion.

Timely Topics  Discussion in the front of our meeting room with participation encouraged from all in attendance. Usually at 11:45 a.m. on the second Tuesday.

April 9  - Income inequality has increased significantly in the last several decades. This has resulted in a shrinking "middle class" which can have significant social, economic and political implications.  What should we as a nation and community do about it?  Hossur Srikantan will lead and facilitate our discussion.

Trips Scheduled (For Old Guard members and guests)

Apr. 2 - Visit Nokia/Bell Labs technology museum

Jun. 20 -- Westchester Dinner Theater

Jul. 18 -- Culinary Institute of America and a tour of the FDR home in Hyde Park.  Details

Walkers
The Walkers Group has been relaunched in a new format (which is still evolving).  For now we are walking twice a week, Mondays and Thursdays, at 8:00 AM at Briant Park in Summit, with "mall walking" at the Short Hills Mall as a backup for bad weather.  If Interested, please drop a note to
[email protected]
to weigh in and say what formulation might work well for you.
Come for the Programs. Stay for the Friends.