Jan. 8 "Nice Presidents Finish Last" - Dr. Dan Cassino, Professor of Political Science, Fairleigh Dickinson University and author. Too often, the most successful presidents aren't those that we'd want to bring home to meet the family.  Various presidents will be discussed to see what we really should be looking for in a president.

Jan. 15 "Same Bed -- Different Dreams: Is There Anything to Learn from the Canadian Model" - Dr. Michael Hawes, CEO Fulbright Canada and professor at Queens University.  He will speak about publicly funded health care, immigration experience, and publicly funded education.

Jan. 22 "Cruising America's Great Loop" - Stuart Conway and his wife Julie cruised America's Great Loop aboard their 42 foot powerboat Meander. Their journey began in Raritan Bay, NJ in June, 2014 and took them up the Hudson, through the Great Lakes and Canada's North Channel to the Mississippi, Gulf of Mexico, Florida Keys, Bahamas and back up the east coast to Raritan Bay.

Jan. 29 "Great Power Shifts in the International System and Implications for the United States" - Dr. Doug Simon, Professor Emeritus, Drew University, will discuss major power shifts occurring in the international system. China's challenge to American Global preeminence, the rise of Eurasia, Russia's efforts to reestablish its sphere of influence and the rise of hyper-nationalism threaten the post-WWII international order and pose major world dangers.
                February Birthdays - John Baxter

Feb. 5 "The Mysteries of the Very Small Revealed" – Phil Eisner, Old Guard member, retired physicist, Exxon Research, is well known to our members as a clear expositor of the physical world. He will explain the mysteries of quantum theory, which describes nature at its smallest scale. The theory of quantum mechanics arose in the first half of the 20th century to explain weird observations made on photons, atoms, and subatomic particles that couldn't be explained by classical physics.

Feb.12 "Spend-Down: Increasing Your Odds of Having Enough Money in Retirement" – Jim Cornfield, CFP, Buckingham Strategic Wealth, Short Hills. Many people think of retirement planning as saving enough money to live the lifestyle they've envisioned. The financial planning you need for this new phase of life is different and often more complicated. Cornfield will show an overall spend-down strategy intended to decrease your tax costs and increase your odds of having enough money in retirement to meet your goals.

Feb. 19 "Reminiscences of a Lifetime of Sports Reporting" – Mark Di Ionno, columnist for the Star- Ledger, 2013 Pulitzer Prize finalist, will speak about his life involvement in sports reporting, including some high-profile stories, and also talk about a novel with a baseball background he has written about the responsibilities of manhood and the pitfalls of glory.

Feb. 26 "Navigating Hearing Loss Remediation" – Craig J. Barth, M.A., CCC-A Audiologist, Fellow, American Academy of Audiology, Morristown, will present a step-by-step thorough and logical process to get our hearing assessed and have proposed remedies clearly explained. He will also share helpful tips for becoming an educated consumer.
                 March Birthdays - John Baxter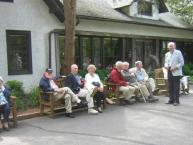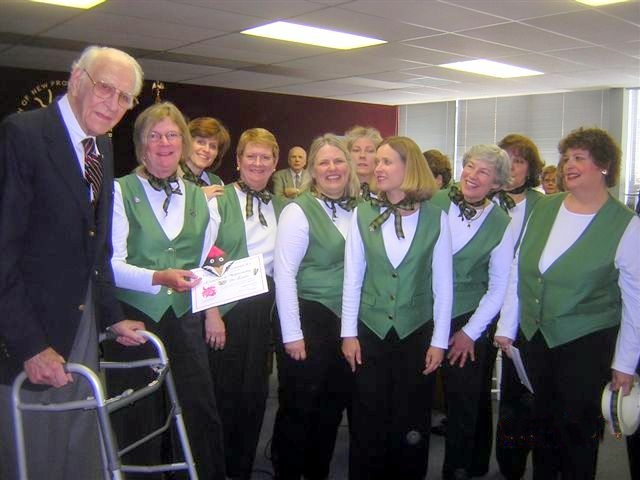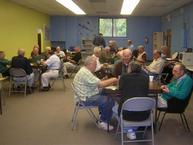 Technology User Group (TUG)  Discussions for all users at all levels in the front of our meeting room, 11:45 a.m. (First and fourth Tuesdays of the month)..

Jan. 1 -- No meeting. New Year's Day.

Jan. 22 -- Thad Gabara wil continue his Machine Learning discussion and demo.

Timely Topics  Discussion in the front of our meeting room with participation encouraged from all in attendance. Usually at 11:45 a.m. on the second Tuesday.

Jan. 15  - Now that the mid-term election is over, many are already looking towards 2020. What will be some of the major factors that will affect the choice of candidates? Ken Lindhorst will lead what should be a lively discussion.

Trips Scheduled (For Old Guard members and guests)

Jan. 24 - A three-course luncheon at Limani Seafood Grill in Westfield. This is a drive yourself trip with a luncheon cost of $35 per person. Paul Thau and John Kissane are the contacts for the trip.

For 2019, the Trips Committee is considering a trip to the Statue of Liberty and Ellis Island and a trip to Westchester Dinner Theater.

Walkers
The Walkers Group has been relaunched in a new format (which is still evolving).  For now we are walking twice a week, Mondays and Thursdays, at 8:00 AM at Briant Park in Summit, with "mall walking" at the Short Hills Mall as a backup for bad weather.  If Interested, please drop a note to
[email protected]
to weigh in and say what formulation might work well for you.
Come for the Programs. Stay for the Friends.